Philippines Lecture Series
The Harvard University Asia Center's 'Philippines Lecture Series' aims to showcase scholarship about—and generate discussion on—the history, politics, economics, public health, society, and culture of the Philippines in order to promote a better awareness and understanding of the place and its peoples. The primary focus of this interdisciplinary series is the Philippines and Filipinos, but speakers also situate the Philippines in the broader context of Southeast Asia and explore its complex transnational connections to East Asia, South Asia, and the global diaspora, including Filipino Americans.
This series is convened by Professor James Robson, James C. Kralik, and Yunli Lou Professor, Department of East Asian Languages and Civilizations; Harvard College Professor; Victor and William Fung Director, Asia Center, Harvard University.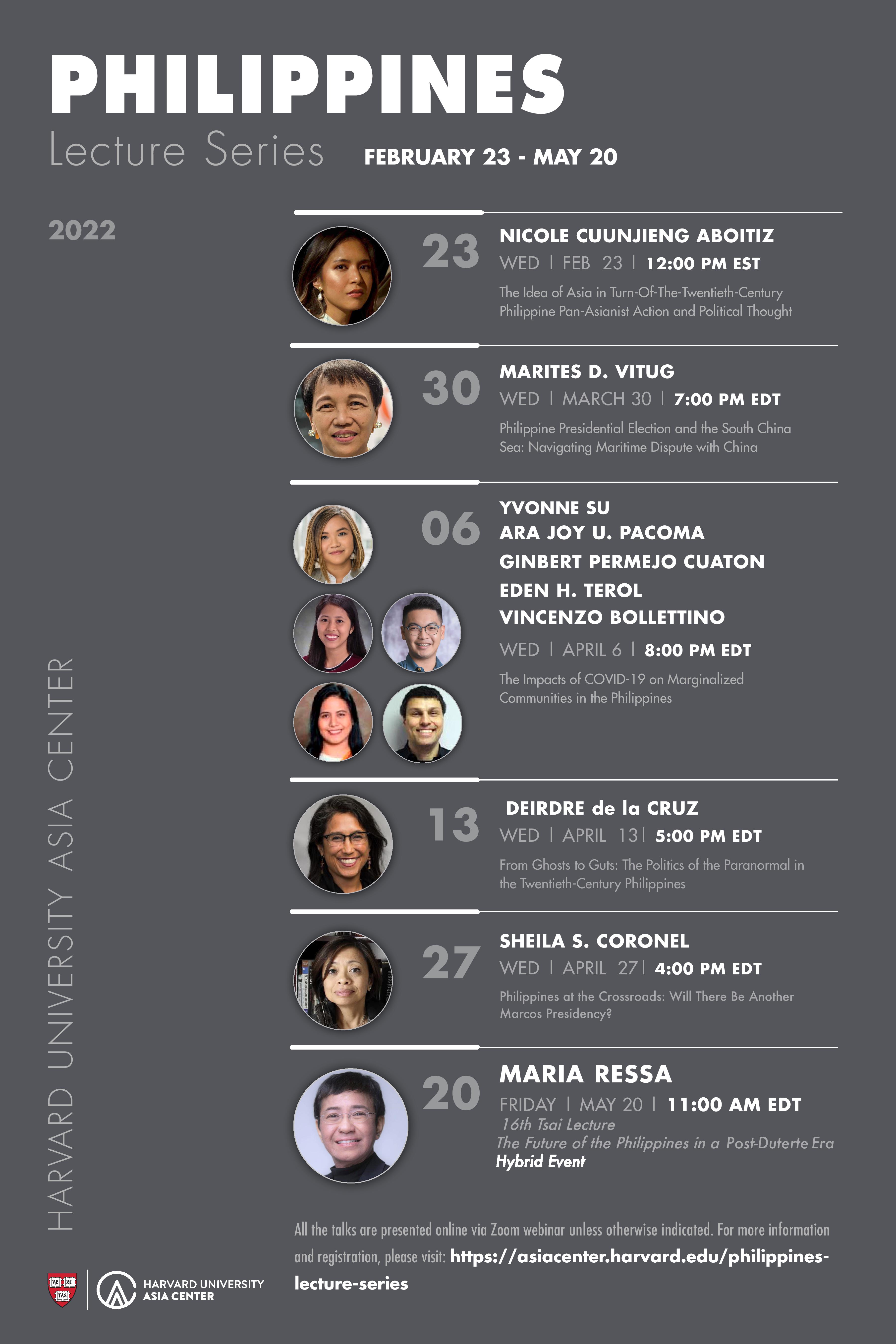 Wednesday, February 23, 2022, 12:00 p.m.-1:30 p.m. EST 
The Idea of Asia in Turn-Of-The-Twentieth-Century Philippine Pan-Asianist Action and Political Thought
Nicole CuUnjieng Aboitiz, Research Fellow, Clare Hall, University of Cambridge; Executive Director, Toynbee Prize Foundation
Wednesday, March 30, 2022, 7:00 p.m. EDT 
Philippine Presidential Election and the South China Sea: Navigating Maritime Dispute with China
Marites D. Vitug, Author, Rock Solid: How the Philippines Won Its Maritime Case Against China; Chair Emeritus of the Board, Journalism for Nation Building Foundation; Editor-at-Large, Rappler
Wednesday, April 6, 2022, 8:00 p.m. EDT 
The Impacts of COVID-19 on Marginalized Communities in the Philippines
Panelists:
Forgotten Survivors: Impacts of COVID-19 on Haiyan Survivors in Resettlement Sites in Tacloban City, Philippines
Yvonne Su, Assistant Professor, Department of Equity Studies, York University
Ara Joy U. Pacoma, Faculty, Leyte Normal University
Ginbert Permejo Cuaton, Research Postgraduate Student, Division of Environment and Sustainability and Interdisciplinary Programs Office, Hong Kong University of Science and Technology
A Clinician's Reflections on Post-Disaster Trauma Care Intervention for Indigenous Communities in the Time of COVID
Eden H. Terol, Assistant Professor of Applied Psychology, University of the Philippines
Pandemics, Disasters, and Preparedness in the Philippines
Vincenzo Bollettino, Director, Program on Resilient Communities, Harvard Humanitarian Initiative
Wednesday, April 13, 2022, 5:00 p.m. EDT 
From Ghosts to Guts: The Politics of the Paranormal in the Twentieth-Century Philippines
Speaker: Deirdre de la Cruz, Associate Professor of Southeast Asian Studies; Associate Professor of History, University of Michigan 
Wednesday, April 27, 2022, 4:00 p.m. EDT 
Philippines at the Crossroads: Will There Be Another Marcos Presidency?
Speaker: Sheila S. Coronel, Toni Stabile Professor of Professional Practice in Investigative Journalism; Director, Toni Stabile Center for Investigative Journalism
Friday, May 20, 11:00 am EDT 
The Future of the Philippines in a Post Duterte Era 
Speaker: Maria Ressa, CEO of Rappler, Journalist, Author, Freedom Advocate and 2021 Nobel Peace Prize Winner
Hybrid Event
All the talks are presented online via Zoom webinars unless otherwise indicated. 
For more details and to register, click on the links to the respective talks.