Online Archived Exhibition: MAPPING ASIA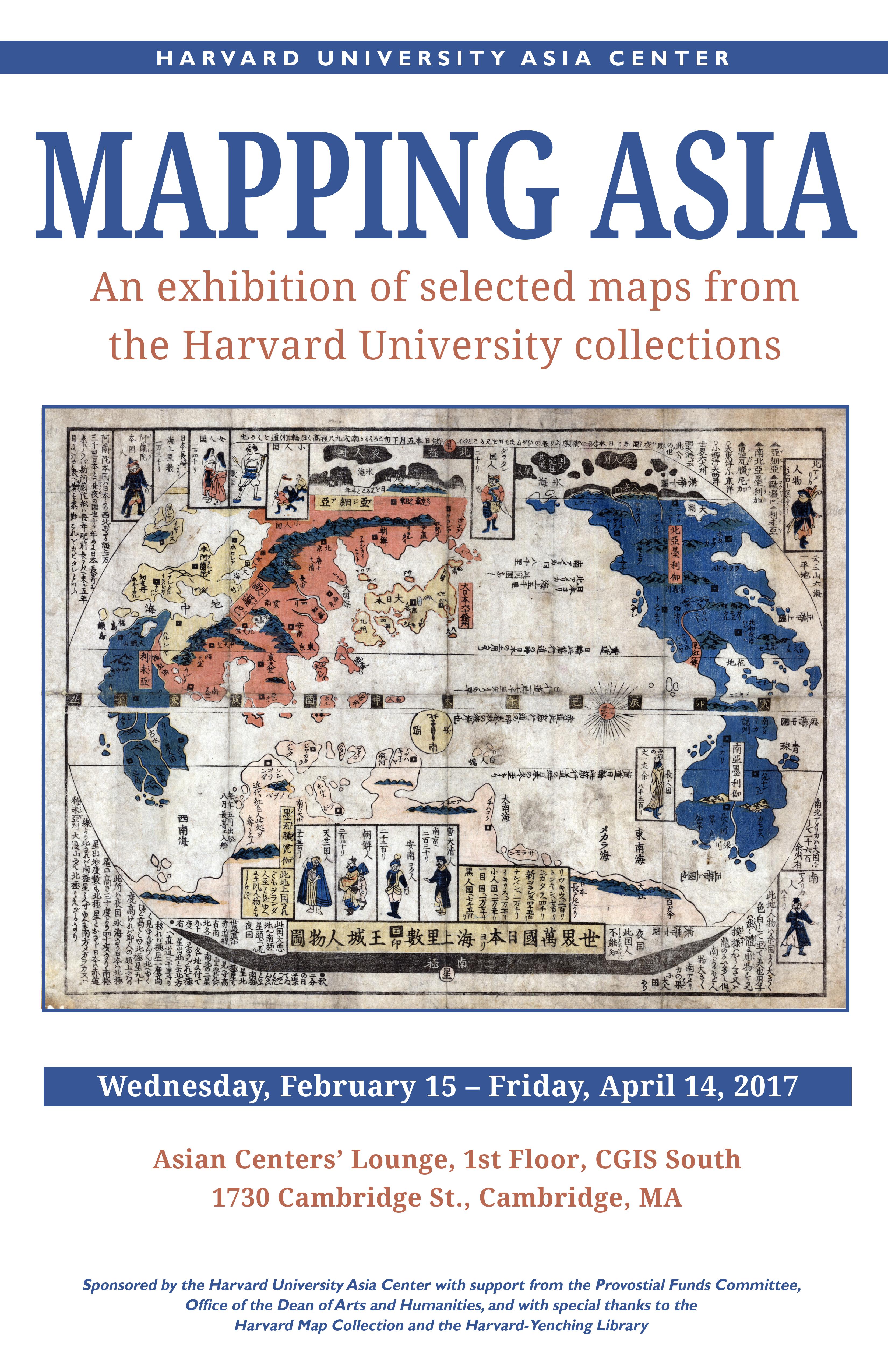 An Exhibition of Selected Maps from the Harvard University Collections 
This exhibition was displayed in the Asian Centers' Lounge, CGIS South, 1730 Cambridge Street, Cambridge from Wednesday, February 15-Friday, April 14, 2017.
Sponsored by the Harvard University Asia Center with support from the Provostial Funds Committee, Office of the Dean of Arts and Humanities, and with special thanks to the Harvard Map Collection and the Harvard-Yenching Library
From the introduction: In this exhibit, we highlight the contemporary dilemma by displaying several present-day maps which make clear the conflicting views of what constitutes Asia and its constituent parts today.  But our deeper aim is to offer insight and provoke thought into the manifold ways in which the region that has come to be called "Asia," and the regions seen to be parts of Asia, have been so diversely, and so richly, viewed and portrayed over many centuries.
Although a truism, it still deserves to be said that maps do not objectively represent space in the world.  In the first place, it is impossible to accurately project curved, three-dimensional space onto two dimensions.  But of greater interest beyond the world of cartographers is that maps convey political and culture messages.  They offer literal and metaphorical insights into views.  This is the case often by conscious design but sometimes as an unintended or only partly conscious result of the mapmaker's decisions about what to display and how to do it.
Mapping Asia ranges widely across time and space. The earliest Western production on display is a late 16th century European map with roots in the classical maps and texts of Ptolemy. The earliest maps produced by those within Asia date from 17th century China and Korea (the date of the Korean map is not certain).  The center of gravity of the exhibit is the 19th century.   One finds in these maps fascinating evidence of intellectual cross-fertilization, intra-European rivalry, and cross-cultural tensions.  Chinese and Japanese cartographers adopted new techniques of mapping from the West, even as they continued indigenous modes of depiction, incorporated indigenous myths, and promoted what they understood to be traditional values. Western mapmakers incorporated new knowledge of distant places with little obvious anxiety about the threat of the other.  This changes in the twentieth century, as seen in the 1942 map of "total war."