Online Exhibition: ELEGY TO A UYGHUR DREAMSCAPE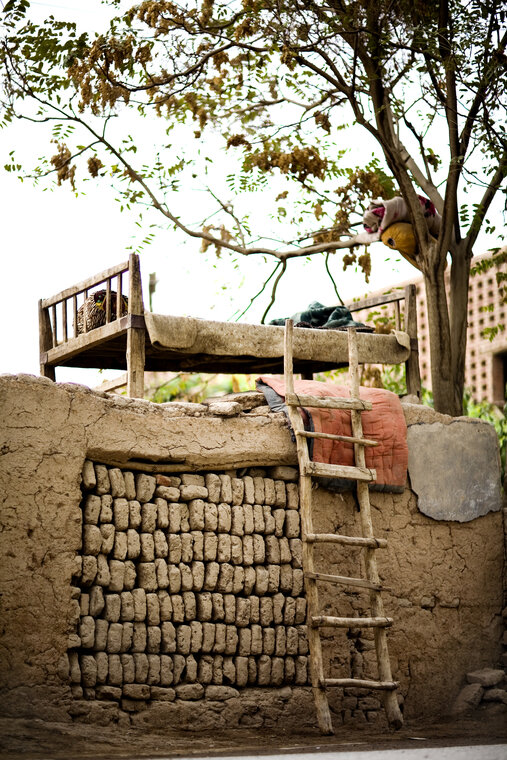 ELEGY TO A UYGHUR DREAMSCAPE 
قەسىدە: ئۇيغۇرنىڭ ئۇيقۇسىز چۈشلىرى
維吾爾夢境的挽歌
This exhibit was on display in CGIS South, Friends of Japan Concourse from February 2020-March 2022.
Xinjiang is a region in western China that stretches from Mongolia to the Tibetan plateau, and from the Pamirs to Gansu province, forming the borderland of the People's Republic of China with the states of Central Asia. While the lands comprising modern Xinjiang were joined together formally into a single territory only in the mid-18th c., during the Qing dynasty (CE 1636–1911), the region has for millennia enjoyed deep connections both with China and with the rest of Eurasia, involving religion, art, music, and food, as well as technology, diplomacy, conquest, and trade.
Buddhism was the dominant religion in what is now southern Xinjiang (Altishahr, also called eastern Turkestan) for most of the first millennium CE. As the result of a gradual process of Islamization beginning in the 9th and 10th centuries the region has long been home to a large Muslim population that today includes Kazakhs, Kyrgyz, Uzbeks, Tajiks, Dongxiang, and Hui, as well as the inhabitants of the oasis cities ringing the Taklamakan Desert, the people who call themselves Uyghurs. Numbering around ten million, Uyghurs are the majority ethnic group in Xinjiang, and make up approximately 43% of the population. The next largest group are the Han Chinese, who account for about 40% of those living in Xinjiang, almost all in the major cities. 
The photographs by Lisa Ross displayed in this exhibition provide a moving, if disturbing, view of life for Uyghurs today. These photos were taken just before the new so-called anti-terrorist policies in Xinjiang were first being implemented. While past decades have witnessed periods of ethnic and political tension, government policies of the last two years have restricted the religious and personal freedoms of Uyghurs and other Muslims in Xinjiang to an unprecedented degree. In addition to shuttering mosques, closing schools, and bulldozing cemeteries, authorities have used extralegal means to detain an unknown number of people - perhaps as many as one million or even more - and to hold them for indefinite stretches of time in one of dozens of newly-built concentration camps, officially known as "re-education centers." Though they do not stand accused of any crime, inmates at these facilities are unable to leave or to communicate with family and are subject to extensive questioning and political indoctrination.
Few Uyghur families have been left untouched by this campaign. Those outside the camps have seen their cultural practices criminalized, their movements incessantly tracked, and their very homes and bedrooms colonized temporarily by Chinese families who have been moved in as part of a government program that is ostensibly directed toward building ethnic harmony. 
This exhibition offers the viewer the chance to reflect on the "new normal" in Xinjiang and to think about the meanings of "home." Taken over many years, these portraits - mainly of women and children - dramatize the impact of detentions in thousands of households where loved ones have been taken away for no one knows how long. They stand by, or sit on, beds, but beds that have been removed from normal interiors and placed instead outdoors: on a road, in a field, next to a pile of bricks. Torn out of context, these beds offer little promise of rest. Surrounded by colorful sheets and blankets, many of them of native design, the figures in these photographs inhabit a dystopian dreamscape, the scenes symbolic of the uprooting of a people and a culture that is happening in real time, right before our eyes.
The richness of Harvard's intellectual depth in Chinese studies allows us to see China in its myriad forms, including the history, culture, language, and politics of its diverse peoples and regions. This exhibition is an important addition to our classes, lectures, and educational outreach about the current distressing situation in Xinjiang, which poses dramatic challenges not just to Uyghurs, but to people everywhere in China and around the world. In times of crisis, when words are often inadequate, art and photography can best respond to the human need for expression and catharsis. We hope that this exhibition may meet those needs and remind us all of the fragility of the freedoms we enjoy every day.
FROM PHOTOGRAPHER LISA ROSS
"Elegy to a Uyghur Dreamscape is an exhibition of photographs of beds out in the open in the Turpan Prefecture in the Uyghur Region of Xinjiang. Many residents sleep outdoors in the hot summer months. When I first observed empty beds in the landscape, I thought of them as poems, as a woken dreamscape. Much has changed since I took these photographs in 2006-2007. Since 2017, some estimate that over a million Uyghurs have been detained or have disappeared. Now when I look at the photographs of these empty beds, I feel their owners' absence. The portraits, taken in collaboration with the subjects, have now taken on a new meaning of loss and unease.
In this exhibition, I incorporate images of my friend Rahile Dawut who recently disappeared. I include these images because I will not stop speaking about her publicly until she is released from her current detention. To the right is a New York Times article about Rahile, published six months after she disappeared in August 2018. The photograph of her printed in the article, repeated hundreds of times in a black and white wall mural behind the two larger color photographs, is a visual intervention. She must not be forgotten. I want people to learn about her and ask who is this woman? Why is this black and white mural here? 
The mural depicts Rahile Dawut carrying out field research during the summer of 2005 when Mazar (Muslim shrine) life was still active, and Uyghurs were free to go about their daily lives. As humans, may we all remember Rahile and other detainees, and actively work to never forget their plight."
Lisa Ross is a New York-based photographer, video artist, and educator. She received an MFA in Visual Arts from Columbia University and a BA from Sarah Lawrence College. She has taught at the Parsons School of Design, Columbia University, and the Harvey Milk School. Ross has worked on photography projects in North Africa, Central Asia, China, Europe, and Azerbaijan and has exhibited throughout the U.S. and Europe.
STAR SCHOLAR DISAPPEARS AS CRACKDOWN ENGULFS WESTERN CHINA
The below article is from The New York Times, August 10, 2018, by Chris Buckley and Austin Ramzy. 
Urumqi, China - She was one of the most revered academics from the Uighur ethnic minority in far western China. She had written extensively and lectured across China and the world to explain and celebrate Uighurs' varied traditions. Her research was funded by Chinese government ministries and praised by other scholars. 
The academic, Rahile Dawut, 52, told a relative last December that she planned to travel to Beijing from Urumqi, the capital of the Xinjiang region where she taught. Professor Dawut was in a rush when she left, according to the relative, who spoke on condition of anonymity out of fear of punishment from the Chinese authorities.
She has not been heard from since, and her family and close friends are sure she was secretly detained as part of a severe clampdown on Uighurs, the largely Muslim group who call Xinjiang their homeland.
Professor Dawut's trajectory — from celebrated ethnographer at Xinjiang University in Urumqi to clandestine detainee — illustrates a wider crackdown that has drastically constricted Uighur life and culture.
The family member and Professor Dawut's friends said they decided to speak out now, eight months after she vanished, because it had become clear that staying silent would not bring her release from a re-education facility, detention cell or perhaps prison.
"Virtually all expressions of Uighurs' unique culture are dangerous now, and there's no better evidence of that than the disappearance of Rahile Dawut," said Rian Thum, an associate professor at Loyola University New Orleans whose historical research on Uighur pilgrimages and manuscripts drew on Professor Dawut's pioneering studies. "There was a lot of hope that they would see that she was a nonthreat and release her, but that hope gradually dwindled."
The Xinjiang region, more than anywhere else in China, has demonstrated how Xi Jinping, the country's president and Communist Party leader, is determined to redraw the boundaries of what is permitted in religion, academic research, civil society and ethnic expression.
Under him, the government has redoubled a yearslong clampdown on Uighurs who are marked as potential supporters of independence or Islamist extremism. For many of Xinjiang's 11 million Uighurs, their homeland has become a surveillance state swarming with checkpoints, security cameras and armed patrols.
Hundreds of thousands of Uighurs have been kept in secretive re-education centers for weeks, months and even years, scholars and international human rights groups estimate. Uighurs have also experienced increasing restrictions on movement, prayer and communications.
Chinese officials have mostly avoided acknowledging the mass internments. But not even moderate academics like Professor Dawut appear secure. The government has purged what it calls "two-faced" Uighur teachers and officials suspected of secretly resisting the hard-line policies.
"Since Uighurs are now collectively under suspicion, any Uighur academic with foreign ties is branded a 'two-faced intellectual' — disloyal to the state and in need of re-education," said Rachel Harris, who studies Uighur music at the School of Oriental and African Studies in London and knows Professor Dawut as a friend and academic partner.
"The accounts of the 're-education' regime that people are undergoing in those camps are harrowing," Professor Harris said by email. "I imagine my lovely, principled, dedicated colleague there, and I feel incredibly angry." Other prominent Uighurs who have vanished in the past two years, apparently into detention, include writers and website operators, a soccer star and a popular musician, according to Radio Free Asia and overseas Uighur groups with extensive contacts in Xinjiang.
At least one of Professor Dawut's graduate students in China has also disappeared, according to John Kamm, founder of the Dui Hua Foundation in San Francisco, which lobbies the Chinese government on human rights cases. He said his attempts to get information about Professor Dawut from Chinese officials had been unsuccessful. "Everyone who has known her is under suspicion," Mr. Kamm said. "Rahile Dawut is the human face of this unspeakable tragedy."
A month before Professor Dawut left her last message, her life had a semblance of normality. She gave a talk on Uighur women in November at Peking University, speaking to a forum of scholars who have backed Mr. Xi's assimilationist policies in Xinjiang.
Uighurs are a Turkic people, much closer in appearance, language and customs to peoples across Central Asia than the Han who make up the vast majority of China's population. The Chinese government had long been wary of defiance from them, given Uighurs' history of independence. Official alarm skyrocketed after deadly riots in Xinjiang in 2009 and a series of primitive but bloody assaults on Han people, police officers and officials.
But until recently, Professor Dawut's work was welcomed by Chinese bureaucrats, as evidenced by grants and support she received from the Ministry of Culture. She had earned an international reputation as an expert on Uighur shrines, folklore, music and crafts neglected by previous generations of scholars. "I was deeply drawn to this vivid, lively folk culture and customs, so different from the accounts in textbooks," she said in an interview with a Chinese art newspaper in 2011. "Above all, we're preserving and documenting this folk cultural heritage not so that it can lie in archives or serve as museum exhibits, but so it can be returned to the people."
While Chinese policymakers worried that Uighurs were increasingly drawn to radical forms of Islam from the Middle East, Professor Dawut's work portrayed Uighur heritage as more diverse and tolerant, shaped by Sufi spiritual traditions anathema to modern-day extremists. In 2014, she told The New York Times that she worried about Uighur women drawn to conservative Islam.
After finishing her doctorate in Beijing, Professor Dawut began teaching at Xinjiang University, the region's premier school. She founded a folklore institute and shared her work in Europe and the United States, becoming a guide to many foreign scholars.
"Most Western scholars doing research on Xinjiang knew to bring her coffee," said Elise Anderson, a Ph.D. candidate at Indiana University who worked with Professor Dawut. "I remember a lot of the time she would say, 'Let's take a break from work. Let's drink some coffee.'"
Professor Dawut stayed away from political disputes about the future of Xinjiang. If she needed any warning about the risks, there was Ilham Tohti, a Uighur economist at Minzu University in Beijing and measured critic of Chinese policy in Xinjiang. He was sentenced to life in prison in 2014 on charges of separatism. Seven of his students were also charged. 
After Mr. Xi came to power in 2012 and installed a hard-line party functionary to run Xinjiang, the drive to root out dissent here accelerated. Xinjiang University and other schools became a particular focus.
In March of last year, the university leaders were replaced, and soon afterward a team of party inspectors reported that the university had been politically lax. The new administrators vowed to unmask "two-faced" Uighur academics who resisted the new orthodoxies. Research and foreign ties that were once tolerated became increasingly suspect.
Xinjiang University held a rally of 4,300 teachers and students who were warned that separatist sympathizers would be driven out like "rats crossing the road." "The Chinese government, after arresting Uighur government officials, Uighur rich people, they've begun to arrest Uighur intellectuals," Tahir Imin, a former student of Professor Dawut, said from Washington, where he lives. "Right now I can tell you more than 20 names, all prominent Uighur intellectuals."
As her friends abroad expressed growing worry, Professor Dawut continued her teaching and research as far as new restrictions allowed. She was also reluctant to leave her mother alone in Urumqi, Professor Harris said. "I always tried to bring some freshly ground coffee with me when I visited her," she said of Professor Dawut. "That's a painful memory when I think of her life now in the detention camp."