The Future of Africa-China Engagement/Relations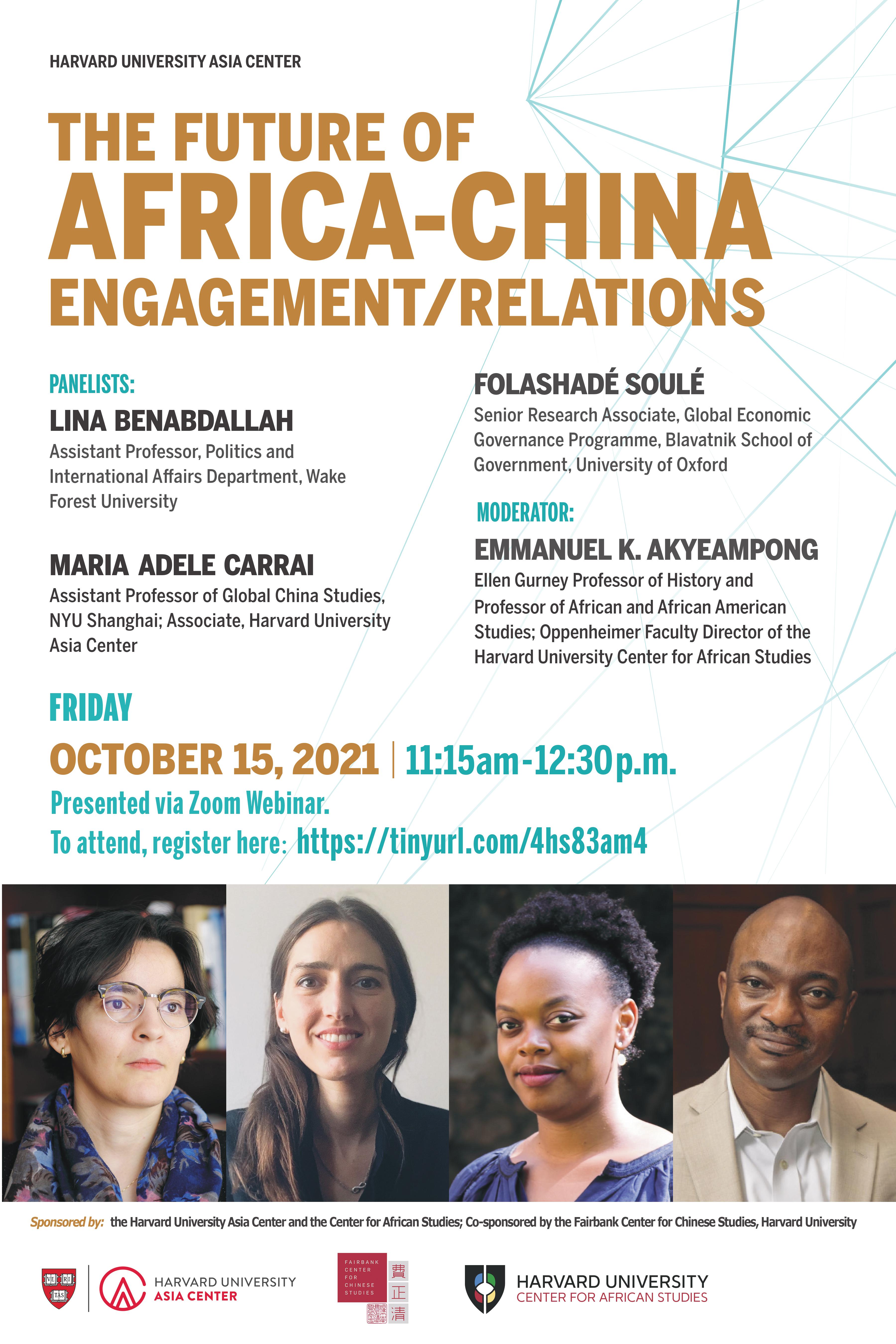 Friday, October 15, 2021, 11:15 a.m.-12:30 p.m. (EDT) 
Panelists: 
Lina Benabdallah, Assistant Professor, Politics and International Affairs Department, Wake Forest University
Maria Adele Carrai, Assistant Professor of Global China Studies, NYU Shanghai; Associate, Harvard University Asia Center
Folashadé Soulé, Senior Research Associate, Global Economic Governance Programme, Blavatnik School of Government, University of Oxford
Moderator: Emmanuel K. Akyeampong, Ellen Gurney Professor of History and Professor of African and African American Studies; Oppenheimer Faculty Director of the Harvard University Center for African Studies
Sponsored by the Harvard University Asia Center and the Center for African Studies; Co-sponsored by the Fairbank Center for Chinese Studies, Harvard University
Presented via Zoom Webinar. To attend, register here: https://tinyurl.com/4hs83am4. 
Biographies:
Lina Benabdallah is Assistant Professor at Wake Forest University. She is the author of Shaping the Future of Power: Knowledge Production and Network-Building in China-Africa Relations (University of Michigan Press, 2020). Her research has appeared in International Studies Quarterly, The Journal of International Relations and Development, Third World Quarterly, African Studies Quarterly, Project on Middle East Political Science, as well as in public facing outlets such as the Washington Post's Monkey Cage and Foreign Policy. Dr. Benabdallah is also a Johns Hopkins University China Africa Research Initiative (CARI) Research Associate, a Senior Associate at the Center for Strategic and International Studies' (CSIS) Africa Program, and a contributing editor for Africa is a Country. Dr. Benabdallah earned a Ph.D. in Political Science from the University of Florida in 2017 and has conducted fieldwork in Beijing, Jinhua, Addis Ababa, Nairobi, and Bamako.
Maria Adele Carrai is an Assistant Professor of Global China Studies at NYU Shanghai. Her research explores the history of international law in East Asia and investigates how China's rise as a global power is shaping norms and redefining the international distribution of power. In light of the development of the Belt and Road Initiative, she is looking in particular at the economic, legal, and political repercussions of Chinese investments and economic engagement in Europe and Africa. Prior to joining NYU Shanghai, she was a recipient of a three-year Marie-Curie fellowship at KU Leuven. She was also a Fellow at the Italian Academy of Columbia University, Princeton-Harvard China and the World Program, Max Weber Program of the European University Institute of Florence, and New York University Law School. More information can be found on her website www.mariadelecarrai.com.
Folashadé Soulé is a Senior Research Associate at the Global Economic Governance programme (Blavatnik School of Government). Her research areas focus on Africa-China relations, the study of agency in Africa's international relations, and the politics of South-South cooperation. She was a postdoctoral fellow at the London School of Economics, and a former Oxford-Princeton Global Leaders Fellow. Her research has been published in several peer-review journals among which African Affairs, Global Governance, International Affairs, and Foro Internacional. Folashadé also teaches as a guest lecturer in politics and international relations at the University of Oxford (Department of Politics and International Relations, Oxford School of Global and Area Studies). As a policy-facing academic, connecting policy and research, she is the initiator of the Africa-China negotiation workshop series bringing together African negotiators and senior policymakers to exchange and build better negotiation practices when dealing with China. She has also acted as a policy analyst and consultant for several institutions and is currently acting as the Africa advisor to the Commission on Global Economic Transformation (CGET) led by Nobel Laureates Joseph Stiglitz and Michael Spence and hosted by the Institute for New Economic Thinking (INET).
Emmanuel K. Akyeampong is Oppenheimer Faculty Director of the Harvard University Center for African Studies,  and Ellen Gurney Professor of History and of African and African American Studies at Harvard University. He was appointed Loeb Harvard College Professor in July 2005. Akyeampong is a Fellow of the Ghana Academy of Arts and Sciences (FGA), and a Corresponding Fellow of the Royal Historical Society (UK). He serves as the president of the African Public Broadcasting Foundation (US), a partnership of academic researchers, African broadcasters and African producers dedicated to the production of development oriented programs for broadcast on television, radio and the Internet. He is a co-founder and director of the International Institute for the Advanced Study of Cultures, Institutions and Economic Enterprise (IIAS: www.interias.org.gh) based in Accra, Ghana. He served as chair of the Committee on African Studies at Harvard from July 2002 to June 2006. He is the author of several books and articles including Drink, Power, and Cultural Change: A Social History of Alcohol in Ghana, c.1800 to Recent Times (1996); Between the Sea and the Lagoon: An Eco-Social History of the Anlo of Southeastern Ghana, c.1850 to Recent Times (2001); and editor of Themes in West Africa's History (2006); and with Henry Louis Gates Jr., The Dictionary of African Biography 6 Vols. (2012). His research interests are social history, comparative slavery and the African diaspora, environmental history, the history of disease and medicine, economic and business history. Akyeampong has been an editor of the Journal of African History (2006-2010), was founding co-editor of African Diaspora and has served on the editorial advisory boards of African Arguments, African Affairs, the International Journal of African Historical Studies, Journal of African History, Journal of the Social History of Medicine, Ghana Studies, the Transactions of the Historical Society of Ghana, and Research Review. He was a member of the board of directors for the African Studies Association in the United States, and a former Council Member of the International African Institute.