"Oh You With the Body of Clouds!": Gender & Difference in 14th Century East Java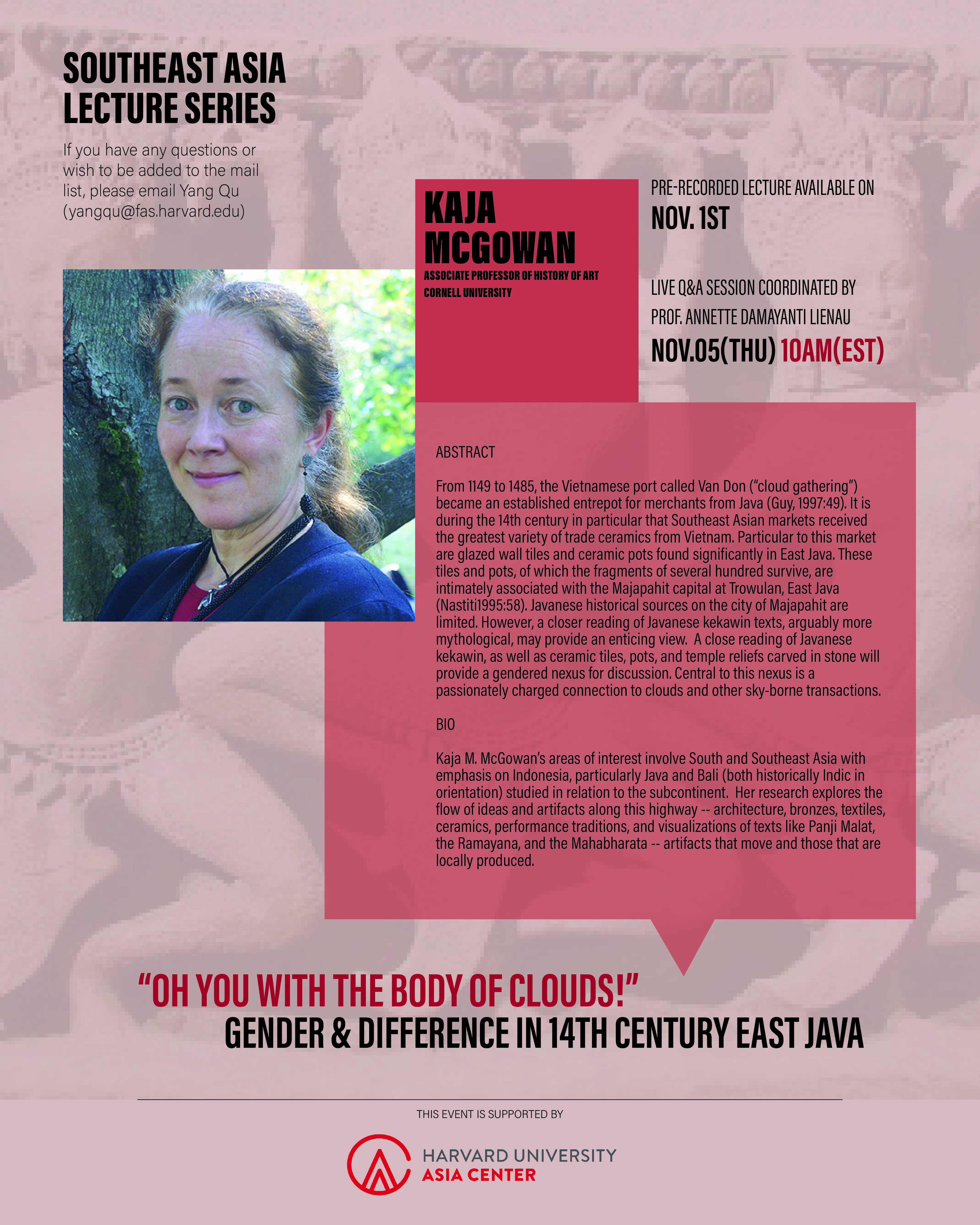 Southeast Asia Lecture Series, Fall 2020
Pre-recorded Lecture 
Speaker: Kaja M. McGowan, Associate Professor of History of Art, Cornell University
The live Q & A session will be moderated by Prof. Annette Damayanti Lienau, Department of Comparative Literature, Harvard University on Thursday, November 5, 2020, at 10 AM EST via Zoom (details below).
If you have any questions or wish to be added to the mail list, please email Yang Qu at yangqu@fas.harvard.edu.
Abstract: From 1149 to 1485, the Vietnamese port called Van Don ("cloud gathering") became an established entrepot for merchants from Java (Guy, 1997:49). It is during the 14th century in particular that Southeast Asian markets received the greatest variety of trade ceramics from Vietnam. Particular to this market are glazed wall tiles and ceramic pots found significantly in East Java. These tiles and pots, of which the fragments of several hundred survive, are intimately associated with the Majapahit capital at Trowulan, East Java (Nastiti1995:58). Javanese historical sources on the city of Majapahit are limited. However, a closer reading of Javanese kekawin texts, arguably more mythological, may provide an enticing view. In these texts, heavily encrusted architectural spaces become literary analogues for ordering interaction between men and women in 14th century East Javanese society. This paper champions the work of Barbara Andaya who argues that "despite the privileging of written sources, a more liberal interpretation of texts can open up alternative pathways;" and that "the documentary dominance of men can to some extent be countered by attentiveness to other receptacles for historical memories" (Andaya 2006:61,62). A close reading of Javanese kekawin, as well as ceramic tiles, pots, and temple reliefs carved in stone will provide a gendered nexus for discussion. Central to this nexus is a passionately charged connection to clouds and other sky-borne transactions.
Bio: Kaja M. McGowan's areas of interest involve South and Southeast Asia with emphasis on Indonesia, particularly Java and Bali (both historically Indic in orientation) studied in relation to the subcontinent. Her research explores the flow of ideas and artifacts along this highway -- architecture, bronzes, textiles, ceramics, performance traditions, and visualizations of texts like Panji Malat, the Ramayana, and the Mahabharata -- artifacts that move and those that are locally produced.
---
Join Zoom Meeting: https://harvard.zoom.us/j/97883046330?pwd=LzF3eFlCMHFiVTM5VDNYb0NjeWduUT09
Password: 626526
Join by SIP
97883046330@162.255.37.11 (US West)
97883046330@162.255.36.11 (US East)
Password: 626526